Lawn care services for residential and commercial properties in Denison, Carroll, and nearby areas of Iowa.
Our comprehensive lawn and plant care program includes fertilization, weed control, emerald ash borer treatment, overseeding, and more.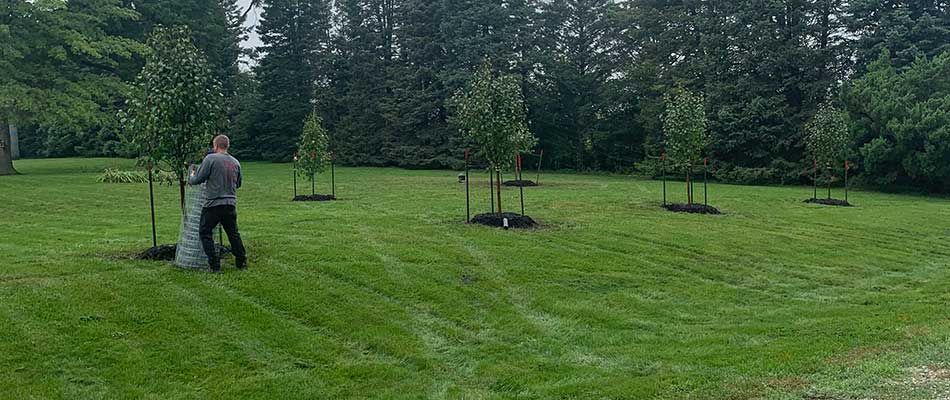 At Phil's Lawn & Landscaping, our over 30 years of experience means that we have the knowledge and expertise needed to plan out a lawn care program that is comprehensive and thorough. We offer two different lawn care packages, as well as additional add-on services. Examples include weed control, aeration, emerald ash borer treatment, overseeding, fertilization, and more.
Learn more about the extensive lawn care services we offer for residential and commercial properties in Denison, Carroll, Harlan, and nearby areas of western and central Iowa.
---
Our Lawn Care Packages Include Fertilization, Weed Control, & More
We offer two separate lawn care packages for our clients, outlaid below. These packages are designed to get your lawn maximum nutrients and keep weeds at bay. Our packages include:
Silver Package
4 fertilizer applications including crabgrass control
Spring and fall weed spray
Gold Package
4 fertilizer applications including crabgrass control
Spring and fall weed spray
Grub control treatment
Core aeration treatment
If you prefer a custom lawn care package, our team will be more than happy to create one for you. We also offer a 5% discount for customers who prepay for their package by mid-March.
---
How Fertilization & Weed Control Benefits Your Western & Central Iowa Lawn
Throughout the year, your western and central Iowa lawn takes a beating. From heavy foot traffic in spring and summer to cold winds in winter, your lawn deals with it all. That's why it needs healthy doses of key nutrients such as nitrogen to boost its health. Regular fertilization treatments provide benefits by giving your lawn the food it needs to make it through each season and stay strong. When your lawn isn't strong, it becomes more susceptible to lawn insects and diseases.
Weed control treatments help the grass fight off these invasive plants. Weeds grow much more rapidly than grass does, meaning they take away needed nutrients from your lawn. To keep them away from your property, we provide two pre-emergent crabgrass treatments and a spring and fall post-emergent spray. We also provide monthly landscape bed weed control. Common weeds we treat for, along with crabgrass, include:
Creeping charlie
Dandelions
Foxtail
Clover
Nutsedge
Other broadleafs
---
Lawn Insect & Disease Treatments Stop These Threats from Destroying Your Grass
Keeping insects such as grubs out of your soil helps ensure your grass won't be destroyed. Grubs eat your grass quickly, starting with the root system. If your grass feels spongy and you can peel it back like a carpet, that's a key sign you have a grub infestation. Our preventative grub control treatment keeps these pests, and others like pillbugs, away from your lawn.
Common lawn diseases in our area are brown patch and snow mold. By applying fungicide treatments when we see signs of them, we can stop these from spreading. When it comes to lawn disease, being proactive is vital. If you spot a brown area in your lawn, contact us immediately so our professionals can come out to assess the situation.
Lawn diseases can often be corrected by adjusting a lawn's environment, such as the amount of watering or amount of nitrogen used.
---
Aeration, Dethatching, & Overseeding Can Revitalize a Lawn
Over time, soil becomes compacted, which makes it more difficult for nutrients to sink down into the soil. Core aeration, performed in the fall, helps to release the compacted soil and gives a lawn room to breathe. This is done with an aerating machine that pokes tiny holes into your lawn.
After aeration, we typically overseed to encourage grass growth. At Phil's Lawn & Landscaping, we use Earth Carpet Tough Stuff, made up of 90% tall fescue and 10% Kentucky bluegrass. Because it can get hot and dry up here, this is the recommended type of grass to grow here so that it doesn't go dormant during dry periods.
In the spring, we can perform dethatching services. Thatch is debris that builds up over time in your lawn and blocks the soil from getting access to light, water, and air. Removing the thatch, or dethatching, helps your soil and grass grow under optimal conditions.
---
Sod Installation Provides a New Lawn Quickly
If you need to get a new lawn quickly, sod installation is the way to go. Seeding can take several weeks or months to show results, while sod can establish itself within 3-4 weeks with the right treatments. When we install new sod, we always include a starter fertilizer treatment so that it has the correct foundation. Common sod types we work with include tough turf and bluegrass sod. To continue healthy sod growth, it's recommended to continue on with routine fertilizer treatments.
---
Shrub & Tree Care Includes Fertilization, Emerald Ash Borer Treatment, & More
Along with lawn care, we also provide shrub and tree care. Our team will do fertilizer injections directly into the ground around your shrubs and trees so they can absorb those nutrients from the roots. We recommend this service be performed once a year.
We also treat for emerald ash borer, which can be a big problem in our area of Iowa. These invasive bugs and their larvae can destroy an ash tree. They start by colonizing the top of the tree and their larvae feed underneath the bark which kills off the tree as it loses the vessels that move nutrients through the plant, according to Iowa State University.
---
Mosquito & Perimeter Pest Control Ensure Pests Stay Away from You & Your Loved Ones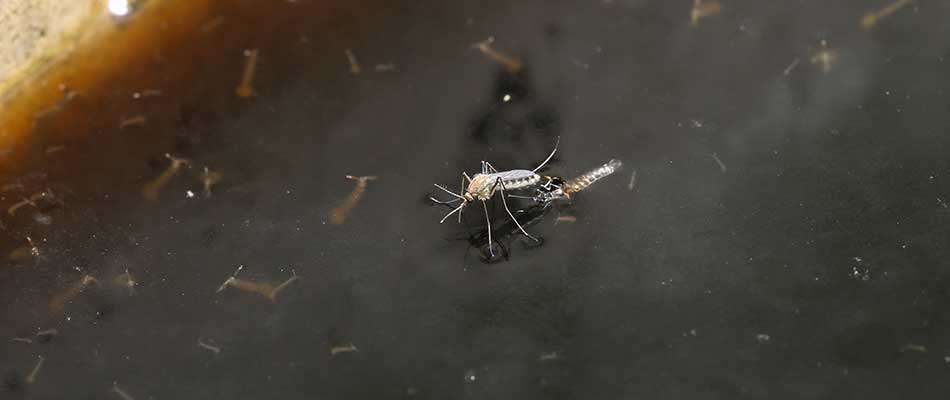 We also provide mosquito control treatments and perimeter pest control to keep these annoying insects off of your property and away from you, your loved ones, or your customers. Our mosquito control treatments are applied monthly throughout June, July, and August with a backpack blower.
For perimeter pest control, we provide treatments three times a year to keep out pests such as ants, spiders, and more. We spray about a foot up the wall of your home or business as well as around the outside.
---
If you need lawn care services for your home or business in western and central Iowa, give us a call today!
Our comprehensive lawn care services give your lawn and shrubs everything they need to thrive in the areas of western and central Iowa. If you're a homeowner or business owner in need of lawn care, contact us today by calling (712) 269-2307 or filling out our online form to get in touch with one of our qualified professionals.